Cosmetic Dentistry
Invisalign
If you've suffered from crooked teeth for long enough, but are put off by the thought of wearing traditional metal braces, Dr. Yash Sheth has another option that might just work for you: Invisalign invisible braces.  
Invisalign is the virtually invisible way to straighten your teeth, using the most innovative technology in dentistry today and achieve the dazzling smile you've always dreamed of. Using advanced 3D computer-imaging technology, Invisalign depicts your complete treatment plan based on Dr. Yash's prescription, from the initial position of your teeth to the final desired position. You can see the end result before you have even started treatment! 

Then a series of clear aligners are custom-made for your teeth - and your teeth only - to move them little by little. Each aligner is worn for about two weeks before being replaced by the next in the series, until the final position of your teeth is achieved. Your Invisalign treatment time will be determined by Dr Yash, based on your specific needs. Average treatment time is normally about 1 year.
Invisalign is removable, so you can eat and drink what you want during treatment. You can also brush and floss normally to maintain good oral hygiene.
Invisalign is comfortable, without metal wires or brackets, there is less irritation, and less adjustments and appointments involved than traditional braces.
Invisalign is suitable to treat a wide range of orthodontic issues, including crowding, spacing, crossbites and open bites. It is suitable for people of all ages, and special features are included to cater for teenagers.
Why wait another day to take the first step toward straighter teeth and a more beautiful smile? Contact our office or email and ask us about Invisalign.
Bonded Fillings
Natural/"Tooth-Colored" Composite Restorations
If the thought of unsightly metal fillings leaves you less than thrilled, you'll be happy to know that dental science  has made many advances since metal fillings were invented!  Today, if you need a cavity filled, Dr. Yash Sheth can use a strong composite resin that looks much more natural and is much less noticeable than a metal filling.  And best of all, composite fillings only take a single appointment to apply—which means you save time while improving the health of your teeth and the appearance of your smile!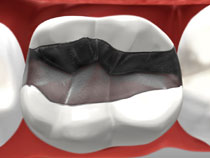 Bridges
Named for the way that they "bridge" the gaps between teeth lost to trauma or decay, bridges restore your smile's health and beauty by placing durable artificial teeth where your natural teeth are missing. If your missing teeth make you feel self-conscious, or you're noticing problems with speaking, chewing, or other everyday tasks, ask Dr.Yash Sheth if a bridge may be right for you. Created and only able to be removed by your dentist, bridges offer a comfortable, semi-permanent option that can enhance your smile and improve the health of your natural teeth.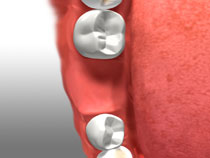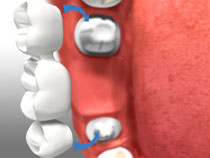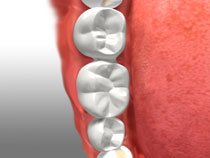 Crowns
Sometimes referred to as "dental caps," Dr.Yash Sheth uses crowns to improve the appearance and health of your smile.  If you're suffering from teeth that are chipped, discolored, or have decay or breakage, consider crowning those teeth as a way to get that strong, beautiful, and natural-looking smile that you want. 

Ever wondered what the difference is between a crown and a filling , dental inlay, or dental onlay?  Crowns cover the entire tooth from the gum line up—so in essence, a crown becomes your new tooth surface because it completely envelopes it. On the other hand, fillings, inlays, and onlays only cover or fill a portion of the tooth, so your natural tooth surface still shows alongside. One similarity that crowns and fillings do have, however, is that many times they can be created from similar materials like porcelain, ceramic, or even gold alloy. Not sure which material makes the most sense for your crown? Ask Dr.Yash Sheth to tell you more about your crown options.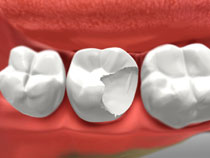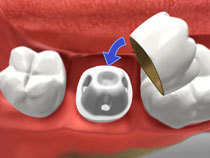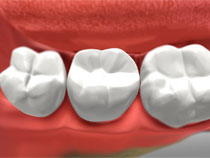 Porcelain Veneers
If you've ever seen a celebrity go from stained, chipped or crooked teeth to a beautiful, straight, gleaming white smile virtually overnight, you've seen what were probably porcelain veneers. Made from a thin but highly durable material, veneers slide easily over your teeth to give you the smile you've always wanted!  Customizable to any tooth shade you desire, veneers are a long-lasting way to create a natural-looking smile.